Our Jacketed 150l Glass Reactors are the best reactors on the market. Each lab reactor has an outer jacket allowing circulation of liquid ranging in temperature from -80°C to 250°C.
Specifications of jacketed glass reactor :
Model
S212-10L
S212-20L
S212-30L
S212-50L
S212-100L
S212-150L
S212-200L
Vessel Capacity
10L
20L
30L
50L
100L
150L
200L
Jacketed Volume
3L
6L
10L
16L
30L
35L
40L
Glass Material
GG-17 High borosilicate glass 3.3
Port nos. on Cap
6
Motor Power
90W
90W
90W
120W
180W
400W
750W
Rotation Speed
0~680rpm
Sealing
PTFE+quick-release connection
Discharge
PTFE botoom discharge valve
Voltage
Single phase,220V 50Hz, Single phase, 110V, 60Hz
Optional
Ex-proof motor, collection flask, vacuum gauge
Other
Customized reactor is available
This Jacketed glass reactor can be used for vacuum stirring reaction, high temperature and low temperature reaction, constant speed operation mixing reaction, distillation, reflux, concentration reaction,negative pressure operation and so on.
Packing List of Pharmaceutical Reactor
Machine Part
Glass Part
Stainless steel frame
1 set
Vessel body
1 pc
Main upright
1 set
Vessel cover
1 pc
Anti-explosion electric machine
1 set
Condenser
1 pc
Anti-explosion electric box
1 set
Constant voltage funnel
1 pc
Cardan joints
1 pc
Temperature tube
1 pc
Bottleneck ring, cover
1 set
29# hollow plug
1 pc
Stirring rod
1 pc
34# reducing valve
1 pc
Stirring F4
1 set
Backflow bend
1 pc
Discharge valve
1 set
 Flange plate of discharge valve
1 set
YZ-100 vacuum meter
1 pc
Bottle backing ring
1 pc
Backing ring of condenser
1 pc
Clamp of condenser
1 set
Black nut
1 set
F4 cover of solid feeder mouth
1 set
Clamp to fix F4 cover
1 pc
Spare Accessories
Instruction book
1 pc
¢4,¢5 allen wrench
1 pc each
Warranty card
1 pc
¢48 ºring
1 pc
Certificate of quality
1 pc
8A protective pipe
1 pc
Packing list
1 pc
The final explanation right of this instruction book belongs to our company, if product has change, please subject to real products, we will not change the instruction book.
Our jacketed glass reactors' capacity range:1L,2L,3L,5L,10L,20L,30L,50L,100L,150L,fully meet the request of small laboratory experiments and pilot production in plant.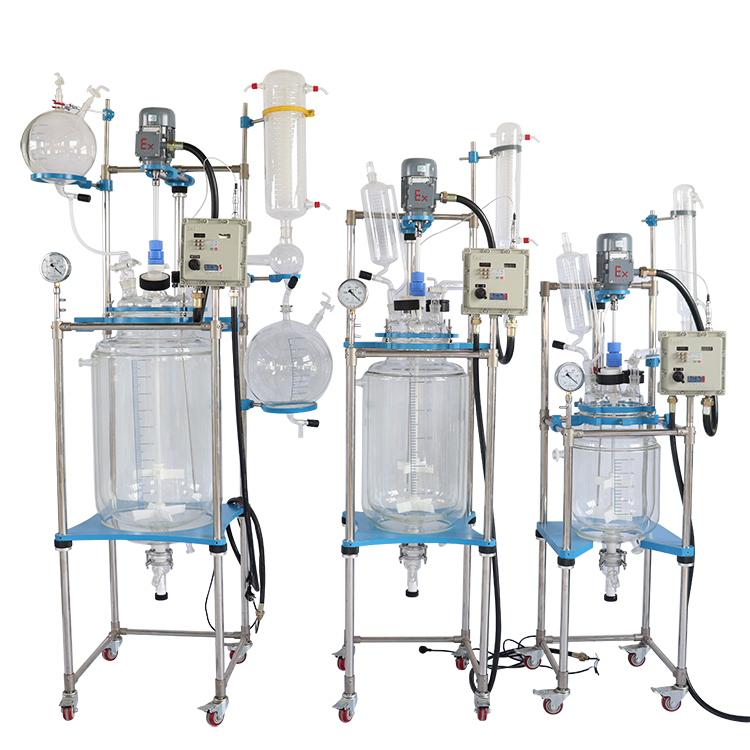 No expense has been spared with these reactors, yet we crush the market on pricing to provide great value at a low cost. Our reactors are the best value on the market and each one comes with fantastic customer service .
Bring your lab to the next level, and get started with a jacketed reactor today!
S212-20L double-layer glass reactor is an audacious product who has combined advantages of domestic and foreign like products, it adopts double-layer glass design, put reaction solvent in internal layer to do stirring reaction, connect different cold and heat sources(refrigerating fluid, hot water or hot oil) to interlayer to do cyclic heating or cooling reaction. Under set constant temperature condition, you can conduct stirring reaction under normal or negative pressure in airtight glass reactor, as well as conducting backflow and distillation of reaction solution. S212-20L double-layer glass reactor is an ideal pilot test and production equipment for modern fine chemical engineering, biological pharmacy and new material synthesis. This glass reactor series mainly contains following parts: double-layer glass reaction kettle, a set of component cover of glass reactor, condenser, constant voltage funnel, frequency conversion controller, rotate stirring and sealing system, stainless steel frame system, etc.
Our Service
If you face any problems in future during the testing process we promise we will give you a reply within 48 hours and solution provide within 3 working days. We can offer operation video and English operation manual. We can provide video-conference.
Pre-Sales Service
* Inquiry and consulting support.
* Quick response with detailed quotation
* Confirm price, quantity, shipment, lead time and payment terms)
After-Sales Service
* 1 year complimentary
* Training how to install the machine, training how to use the machine
* Free lifetime maintenance service and 24-hour technical support
* Engineers available to service machinery overses.
* Reliable quality and thoughtful after-sale service