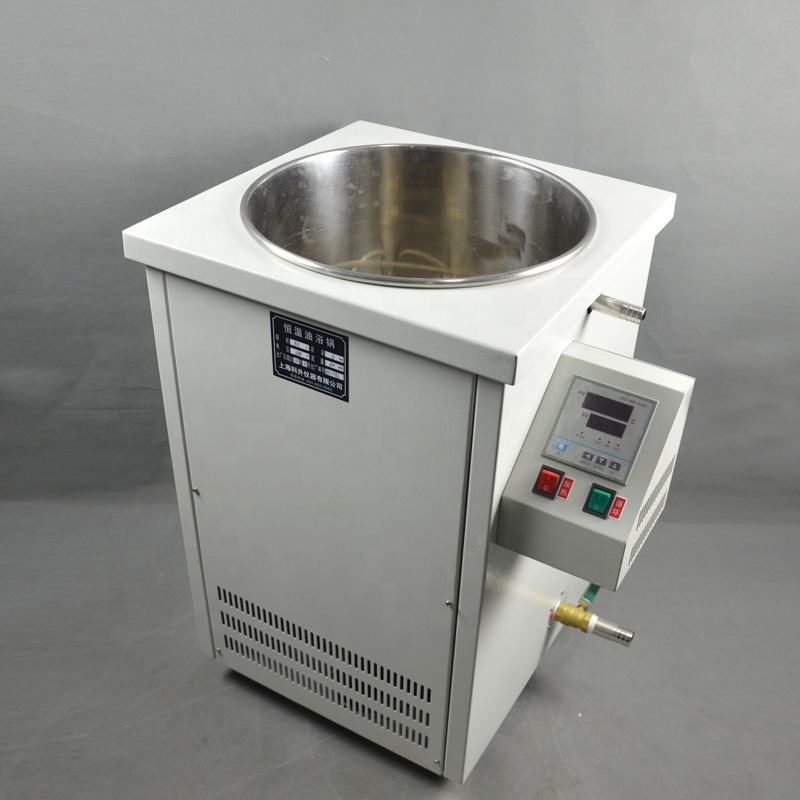 The circulating water/oil bath can provide high temperature circulating water/oil, is usually worked with jacketed glass reactor together and other lab devices,which need high temperature reaction condition. There are many different size of liquid storage volume: 5L, 10L, 20L, 30L, 50L, 80L, 100L.
Laboratory Equipment Circulating Oil/Water Bath is made of electrostatic spray shell, all stainless steel liner. There has a compact structure, safe and convenient, precise temperature control, the output flow control and energy-saving features. This device is designed and manufactured for supporting double layer glass reactor to provide thermostatic circulation heat sources , and also can be used in any occasions which need thermostatic circulation heat sources.
High temperature circulating oil bath is widely used for drying, concentration, distillation, dipping in chemical reagents, dipping medicines and biological products. It can also be used to water bath temperature heating and temperature test, is necessary device for biology, genetics, viruses, aquatic products, environmental protection, medicine, health, biochemical laboratory, analysis room, education scientific research.
1. This product adopts imported stainless steel plate materials for the tank. Choose high quality plate electrostatic spraying plastics for shell.
2. Digital display temperature control, simple operation, eye-catching.
3. The PID control, there have advantage temperature control accuracy and small temperature stamping.
4. The solid state relay control circuit, contact-less,halogen-light,increase longevity.
5. Vertical structure, with trundle, mobile convenience.
6. Electric heating tube will be immersed in the oil, quick heating, high thermal efficiency, power saving, and electronic constant temperature.
7. There are insulating the cotton between shell and liner, excellent heat preservation effect. Available for all kinds of the same high temperature bath pot.
8. Adopts full stainless steel magnetic pump, has a stable performance, reliable quality, no leakage, etc.
9. The circulatory system is made by stainless steel, copper; anti-rust, anti-corrosion, etc.
If you are interested in our products,please send your inquiry to us for more information.We will provide you professional service and products you want.