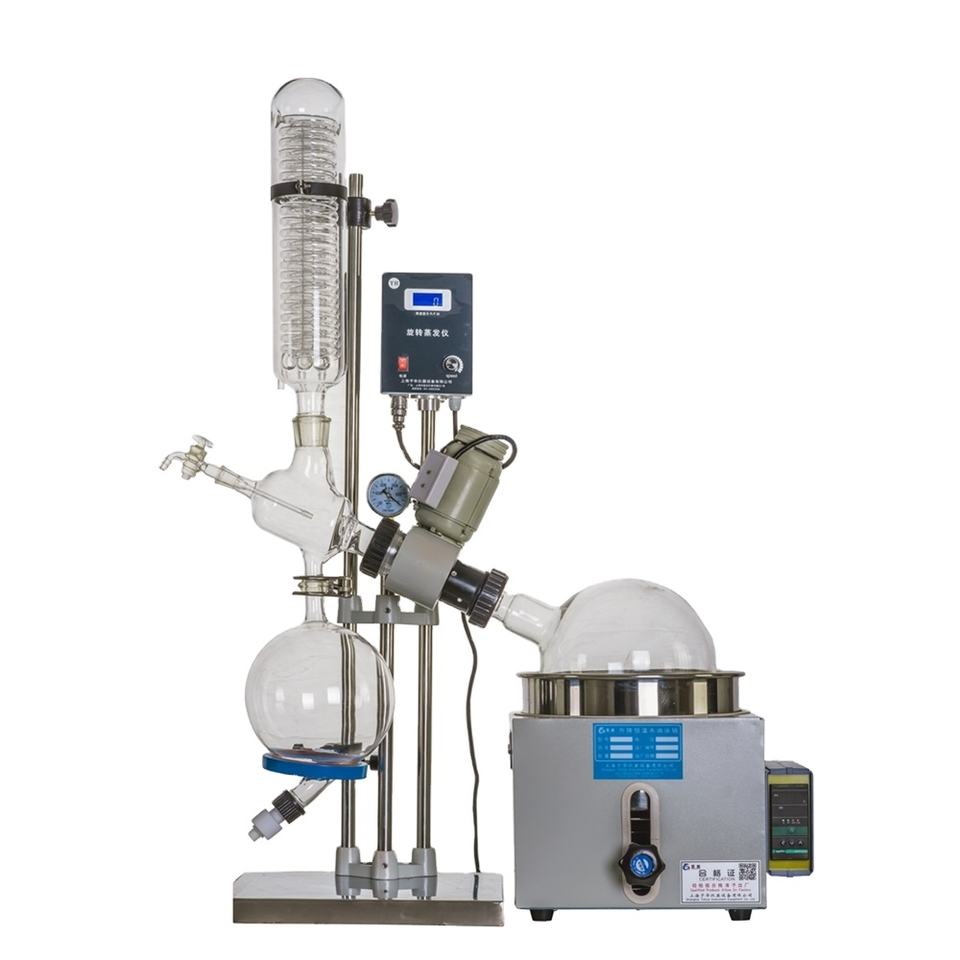 Technical Parameter

Model

RE-201D

RE-301

RE-501

Piece

US $ 330

US $ 485

US $ 590

Evaporating flask(L)

2

3

5

Receiving flask(L)

1

2

3

  Rotating motor(w)

 40 (Stepless speed regulation)

   Rotating speed(R/min)

0-120

Water(Oil) Bath Power(W)

1200

1500

 Temp control mode/range

Intelligent digital/RT-399℃

Temp resolution

±2℃

 Evaporation rate(L/H2O)

>1

>1.5

>1.5

Max.vacuum degree

<133Pa(1.33mbar.1Torr, 0.098Mpa)

 Lifting height(MM)

0-150

0-120

0-120

 Water bath size

24*15

26*15

28*17

Sealing mode

FTFE,fluoro rubber sealing
Water / oil dual-purpose Vacuum rotary evaporator Concentrator Brief introduction
Rotary evaporator is mainly used for enrichment, crystallization, drying, separation, drug, solvent recycling, bio~pharmaceutical industry and others. Vacuum Rotary Evaporatorunder vacuum conditions, through constant heating, rotating at a constant speed rotation of the bottle, large~area thin film formed on the cylinderwalls, and high efficiency. Through efficient glass condenser cooling, recycling collection, and dissolved steam, improve the efficiency of evaporation. Intensive purification of biological products, especially suitable for high~temperature decomposition go bad.
Water / oil Dual-Purpose Rotary Evaporator Main Components:
* Motor unit that rotates the evaporation flask or vial containing the user's sample.
* Vapor duct that is the axis for sample rotation, and it's a vacuum-tight conduit when the vapor being drawn off from the sample.
* Vacuum system, to substantially reduce the pressure within the evaporator system.
Heating water/oil bath to heat the sample.
* Condenser with coil passing coolant, or a "cold trap" into which coolant mixtures such as dry ice and acetone are placed.
* Condensate-collecting flask at bottom of the condenser, to catch the distilling solvent after it re-condenses.
* Electric motorized mechanism to quickly lift the heating bath.
Feature of Water / oil Dual-Purpose Rotary Evaporator :
1. Frequency conversion rotation speed regulation
2. Equipped with PID temeprature controller, temoperature control is more accurate
3. PTFE+Fluororubber dual sealing, make sure high vacuum degree of the system.
4. PTFE discharge valve, no pollution to solvent
5. Heating medium can be water(99℃) or oil(200℃), meet different temperature requirement.
6.Support fully customized parts and OEM/ODM design and manufature.
7. 110 V/60HZ can be customized